I gave you a nod – I did not invite you into my home.
I always think that a Facebook like is similar to a nod – a casual nod at that.  However likes are a serious business with Pennys topping the chart in Ireland at almost 376,000 likes quickly followed by Lidl with almost 300,000 likes.  Although the value of a like  and ways of calculating it are very varied, at an acquisition rate of €1 it can mount up pretty fast.  And this is just for a simple like and not engagement.
For most people when they like a brand they are indicating a slight affinity with the brand and vaguely allowing it to communicate with them by getting updates in their timelines.
However the permission that people give a brand when they like it, translated into the real world is pretty wide.  In the real world equivalent you are allowing a brand or company representative to enter your home and personal world, to sit down and see your public thoughts and moments you are sharing, to browse through your intimate photo albums, to have a look around at your interest areas and to see who your friends are.  Pretty much letting them gate crash your personal world.  You are also allowing introducing them to your friends, their photos and their friends.
As a brand/company page administrator in the online world you can see the list of people who have liked your page with a single click.  Once you click on the person you can browse their updates, photos and their list of friends – from where you can browse their updates, photos and preferences (depending on their privacy settings).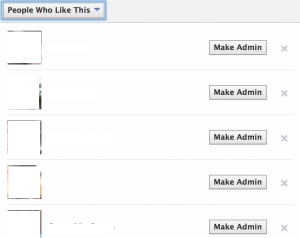 Most people are comfortable with the concept of Facebook collating data and selling it, once its done on a macro level and their individual information is not sold.  After all you are the product not the customer.  This is how Facebook Advertising works in the most general sense.  With the increased push to increase revenue and the rapid expansion of advertising options brand owners are likely to be liked by a much wider and possibly less relevant audience.  On the liker side this amounts to casually liking something and then forgetting about it.
Of course you can unlike a page and its worth seeing looking at the pages feed on the left hand side of your home page to see what you have liked.  People only really take this action if something has annoyed them or if the brand is posting too often – some event needs to trigger this action for most people.  It is also a good idea to review your privacy settings regularly.
This places great responsibility on the brands to be respectful with this unprecedented level of direct information and insight into peoples lives.
Why Should You Care?
To date most of the debate on liking scams has focused on dubious pages and causes that use it as a opportunity to post messages on an individual timelines or to sell pages with large communities.
Many people do not mind commercial companies having in-depth knowledge of them but its good to be aware of what the platform allows.  For example if you were applying for a job and liked the company – but would prefer to keep your personal life separate or worse still had posted something that could hurt your chances of getting the job.  Or maybe for research purposes you liked a competing brand and accidentally exposed some information on your profile.
Facebook discloses what it means to like a page  but its tricky to really find out the level of access you are granting and I have based this upon my own experience but I would love to hear about other experiences that people have had.